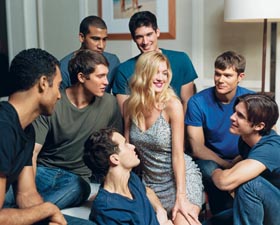 Charm seems something mystic, something that has fallen from above and if it fell on you or not - this doesn't depend on you. Maybe wind has brought it? This is myth which produces lonely and unsatisfied with their life people. Charm is the thing which every woman who doesn't give up as lost can create and radiate on her desire.
It is made concrete: with your hands, look, body, smile, tongue and your brains eventually.
Decide on your aims. Why do you need to charm? Not to be alone or to be with the one you have to be, but to have choice with whom to communicate and with whom not choosing respectable and interesting among men whom you charmed. Sometimes women ask: "Why do I need to charm different people if I need the one whom I love and who love me?" But how will you know that he is the one, if you even didn't manage to meet him? And how can he make out your unique soul on the distance and understand at once that you are the one? These potential the only one and beloved walk near us. But we don't cross. We are waiting them to come. And life is passing.
Everything starts with the simple meeting. Many people think that man has to take the initiative while dating and woman only answers "yes", "no" or "maybe". This is another myth following which almost no one made happy. Woman shows the first signal which starts dating. And if she doesn't do this, but wait it from a man she is left alone or she meets only that man to whom it doesn't matter what happens to her. There is no signal from woman but he still comes: "Want - and that's all" and it doesn't matter for him who is she. Most women as a rule like clever men who often hesitate and are vulnerable inside (though they don't show this). They take probable refuse painfully and till they get clear signal from you they won't make up their minds to come. They are searching for such contact even if they don't show this. This is their biological role. That's why noticing your signal they send one back "Noticed!" if circumstances allow.
The first and the second signals don't commit you to anything. You just look at the reciprocal reaction and make the preliminary impression of the person. And you choose between men who are interested in you who responded to your signal. Or you don't choose anyone. And this is your advantage: the third signal is for you. Three simple motions are the fundament of successful meeting.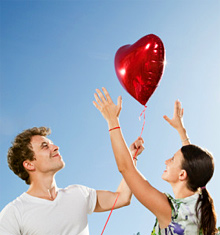 What is the first signal? It is very simple: look friendly and smile, this will encourage man. But ask yourself: what glance is your best? Look at the people around: often you may meet biting, unfriendly, cold, disdainful or demonstratively uninterested glances. Do you look at people the same? Leave this habit for such cases when you need to rebuff someone.
And learn to give your glance necessary coloring. You may practice at safe places. Look at person with interest then add some joy and a bit of admiration. This cocktail really works!
Don't look too long - this embarrass "experimental" one. But short no more than a second are not effective, they are usual in everyday life and they don't pay much attention to them. Second or two speaks that you single him out and that you are interested in him. More in time is the beginning of the contact (note an answer). Repetition of glances is possible - this is the beginning of communication or call for mutual interest.
Man should see your glance, of course. If he looks at you even accidentally, you answer him with your glance and friendly smile. Deviation from look is considered as weakness or absence of interest from your side. If man still doesn't look at you and hasn't time to catch your glance then you have to take care to attract his attention.
To attract attention woman need to get into man's "personal zone" (in radius of meter from him) and stay longer near him. Usually person notices what is happening in this zone. And using this you need to switch the above given glance. Of course, you may shoot with your eyes: at first you remove your eyes and then look again. Note man's reaction. Perhaps, now he'll start to come closer to your "personal zone".
Also it is good to create situation when man could display activity: for example, drop something and not to hurry to raise or ask for help (in words or with your look), and then when he has helped you may compliment him (you shouldn't just pull your umbrella or purse out and run with hope that he will catch you up - not everyone is a good runner).
By the way, you may compliment man without any reasons, for each act even if it doesn't concern you. For example, you may compliment him for the fact that he reads clever book in subway and not sport newspaper, and that he studies playbill but not drink beer. Make this easy, by chance. You may say this passing by and not to address to man directly.
Man may also react on the sound of your voice: it should be notable on the general background - a bit louder than usual or whisper. Also he may react on conversation which may attract his attention (where he has chance to say something, ask a question or show his erudition).
Men notice women who are laughing. They start smiling too. They have the desire to enjoy life with woman. Using this you create a favorable ground for the beginning of communication. The next conversation should be accompanied by smile. What do you need to remember or to imagine something pleasant, to relax your face or to raise a little the corner of your lips? It seems to be small thing but it works.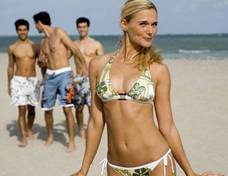 Why? Because in our patriarchal society man always need evidences of his adequacy and success. If you gave him an opportunity to feel this and his self appraisal raises near you then you are desired partner for him. He'll like this feeling and will want to feel it again.
What does effect on men also? Some "sexual" signals that switch on his imagination: when woman is dressed brightly, when clothes is close-fitted and very open. When woman makes slow and free movements (for example, through her hair away or tidy it). From "specific" actions: when she crosses her legs, tidies shoulder straps on her sundress, lick her lips slowly, tidies herself by chance etc.
And don't forget to go away immediately man to understand what you want from him and to run after you. What is better - turn back to look at him and stay too long. Don't disappear at once: or he'll regret that he doesn't catch you up, and you'll regret that you were too hurrying.
All these are the variants of the first signal during which you need to notice the reaction of man - his second signal. If he doesn't come to you or doesn't address to you, doesn't answer on your glance, then he probably doesn't notice or doesn't understand, that means that you need to change the signal on the other (you don't need to fall your purse for the second time). Note that men are often slow-witted and you need to help them. But if he doesn't answer after the second signal which he notices then he doesn't need this at the moment, let him go.
Of course, you may be the first to speak to him using any neutral reason. But do this softly not to frighten him. Men are often afraid when they are deprived of initiative. That's why give him initiative at once after the first signal, then thinking that he took her he'll feel himself more open and free, he'll appreciate your reciprocal steps and your reciprocal reaction - your third signal.
Many women refuse to send signal first not to receive refusal. And they imagine this in advance. Why? Firstly, answer could be positive. This means that you win. And if negative? You don't lose: you didn't know him and you still don't. And when you get "no" take it as "no" and don't think about "why" (variants: "I did something wrong", "no one loves me", "I am too stout" etc.). Man has thousand of reason to refuse you and they are not connected with you. You have them too when you answer "no". You are free for new choice.
Is it easy for you to charm men? Do you easily rise interest in you in handsome boy and provoke him for dating? Can you use body language dainty and womanly but not vulgar?
Meeting is easy and funny game. And don't treat it too seriously. Game is a game. Seriousness and feeling of responsibility kill natural improvisation without which everything is boring and severe. Remember that there is no advantage in every game: you can easily leave it. Just to go your way: thrust yourself on dating and didn't take an exam. You just did some pleasant thing for person with your smile or complimenting him. So play for your pleasure.
Eugenia from Kiev, Ukraine

36 y/o, Online store owner
"... Your inspiration of love ..."
Do you want to know my secret? I am Eugenia. From the very beginning I want to say that I'm cheerful, interesting, well-educated, purposeful Single just beautiful girl without children. I am 36 y/o. My native city is Kiev, Ukraine. I have Attractive body, my ethnicity - I will tell you later, my height is 5'4" - 5'5" (161-165cm). I speak Russian, English and work as a Online store owner. I like to visit gym, to go in for sport, to prepare dinner, play with children. I seek man for Marriage, Relationship, Romance. You should be reliable person, 38-65 y/o.
Irina from Kharkov, Ukraine

50 y/o, Accountant
"... I'll make your cherished dreams and strong desires come true ..."
I dream to find my soul-mate. I'm Irina. My friends say that I'm kind and quiet person Single cute girl from Europe with children. I am 50 y/o. I'm in Kharkov, Ukraine. I have Slim body, my ethnicity - I will tell you later, my height is 5'4" - 5'5" (161-165cm). I speak English, Russian, Ukrainian and work as a Accountant. I like nature and to be outdoors, going to cafes, movies and theaters. I seek man for Activity Partner, Marriage, Relationship, Romance, Travel Partner. I expect such qualities from man: self confident, intelligent, caring and kind, 40-72 y/o.
Julia from Wroclaw, Poland

39 y/o, trading sphere
"... I want to love, feel loved and cherished! ..."
I like to tease my man... My name is Julia. Often they say to me that I'm kind and quiet person Single European woman without children. I am 39 y/o. My native city is Wroclaw, Poland. I have Slim body, my ethnicity - Caucasian, my height is 5'6" - 5'7" (166-170cm). I speak English, Russian, Ukrainian and work as a trading sphere. I like having fun and spending time with friends, take a walk with dog. I seek man for Friendship, Marriage, Relationship, Romance. I wish my boyfriend is reliable person, 39-69 y/o.
Anastasia from Kiev, Ukraine

30 y/o, Administrator in the wedding salon
"... Let love arise. I'm on my way to your heart ... ..."
Serious intentions only! I am Anastasia. By nature I'm communicative and easy going person Single pretty European girl without children. I am 30 y/o. I live in Kiev, Ukraine. I have Attractive body, my ethnicity - Caucasian, my height is 5'6" - 5'7" (166-170cm). I speak English, Ukrainian, Russian and work as a Administrator in the wedding salon. I like cooking, keeping house, dancing, walking under stars. I seek man for Friendship, Marriage, Relationship, Romance. You should be kind, clever man, 30-75 y/o.
Ekaterina from Berdyansk, Ukraine

31 y/o, Operator
"... My life is nice! ..."
I dream about meeting with you... I am Ekaterina. You may be surprised that I'm very sociable and fun loving Divorced girls of somebody's dream with children. I am 31 y/o. I'm from Berdyansk, Ukraine. I have Attractive body, my ethnicity - I will tell you later, my height is I will tell you later. I speak English, Ukrainian, Russian and work as a Operator. I like to visit gym, to go in for sport, to prepare dinner, play with children. I seek man for Activity Partner, Friendship, Marriage, Relationship. You should be practical, sociable, cheerful guy, 30-60 y/o.