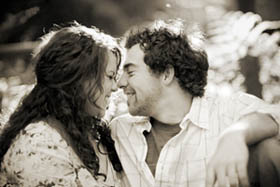 Dating in Ukraine
Dating with Ukrainian girls differs from meeting with girls in Russia. In the whole girls in Ukraine are more friendly and flirtatious then girls in Moscow and St. Petersburg. What about dating in regions of Ukraine?
Dating in Kiev
As in any other megalopolis, in Kiev the tempo of life is very fast, there are a lot of people and big competition. But everything is not so bad as colorless existence shows. Yes, girls in Kiev are duly more closed because of exclusive way of life then girls in Odessa, for example. But its only on the face of it. The main is to have the courage to come up and share good mood, and everything vanishes: cold look, haughtiness, hurry and fuss. Yes, girls in Kiev too are easy to get in touch with, if you overcome their so carefully created camouflage.
Dating in Odessa
In Odessa girls are more open and very often they do the first step to make acquaintance. In the first place it is connected with the fact that Odessa is resort city and Odessa's colour and temperament have a lot to do with it. Earnest of success is to be self-sufficient and to enjoy everything. Note: Odessa's girls can't stand window dressing.
Dating in Dnepropetrovsk
Dnepropetrovsk is the middle part between Kiev and Odessa in way of life and socialization. Accordingly, girls here are more closed in comparison with Odessa, but less closed in comparison with Kiev.
Dating in Kharkov
Kharkov can be called city of students. Girls from all parts of Ukraine come here to enter universities and to get education. Dating in Kharkov can be compared with dating in Odessa.
Dating in Donetsk
There is socialization in Donetsk as in any other industrial city. Most of people work in big teams. Accordingly people join in different groups. Deficit of individuality is evident. If you are not from Donetsk you stand out against others and this adds you points.
Dating in Zaporozhe
In Zaporozhe as in Donetsk it is enough to be from the other region to achieve success. You can just add some romanticism because there is deficit with it in Zaporozhe as in Donetsk.
Dating in Lvov
Lvov can be considered romantic city of Ukraine, it is also called "Ukrainian Paris". Countless amounts of architectures, little comfortable cafes create atmosphere of romanticism. One should make acquaintance with girls opposite to established atmosphere: maximum actions, confidence, and straightforwardness - to kill romantic in you.
<table class="SearchRowTable"> <tr> <td style="padding-right:10px;vertical-align:top;width:140px;"> <table cellspacing=0 cellpadding=0 width="126" class="thumb_search" align="center"><tr><td align=center><div STYLE="width: 125; overflow : hidden"><a target=_blank href="/profile.click.php?ID=1000274037"><img src="https://photo.cdn.1st-social.com/1000274/1000274037-0-4534841229566545801.jpg" alt="See profile of Antonina " border=0 width=118 height=175></a></div></td></tr></table> <div style="padding:10px 10px;"> <div class="addthis_inline_share_toolbox_vfoi"></div> </div> </td> <td style="vertical-align:top;"> <h2>Antonina from Odessa, Ukraine</h2> <ul class="srlist"> <li>61 y/o, Real Estate </li> <li style="font-style:italic;">"... I can kiss away the pain, I will stand by you forever ..."</li> <li>I'm a goddess. I am Antonina . From the very beginning I want to say that I'm complaisant Divorced just beautiful girl with children. I am 61 y/o. I live in Odessa, Ukraine. I have Slim body, my ethnicity - Caucasian, my height is 5'6" - 5'7" (166-170cm). I speak English, German, Spanish and work as a Real Estate . I like to visit gym, to go in for sport, to prepare dinner, play with children. I seek man for Activity Partner, Marriage, Relationship, Romance, Travel Partner. You should be kind, clever man, 55-75 y/o.</li> <div class="mfsp"> <a target="blank" href="https://www.aloneangels.com/OdessaBeauty.html">View profile of Antonina </a> </div> </ul> <div class="SearchRowLinksDiv"> <table class="SearchRowLinksTable"> <tr> <!--<td></td>--> <td><a target=_blank href="vkiss.php?sendto=1000274037" ><img alt="send smile" name=i011000274037 src="/templates/tmpl_aan/images/pa_kiss.gif" border=0></a></td> <td></td> <td></td> <td><img border=0 alt='offline' src='/templates/tmpl_aan/images/offline.gif'></td> </tr> </table> </div> </td> </tr> </table><table class="SearchRowTable"> <tr> <td style="padding-right:10px;vertical-align:top;width:140px;"> <table cellspacing=0 cellpadding=0 width="126" class="thumb_search" align="center"><tr><td align=center><div STYLE="width: 125; overflow : hidden"><a target=_blank href="/profile.click.php?ID=1000757036"><img src="https://photo.cdn.1st-social.com/1000757/1000757036-25-5052479041125117589-s.jpg" alt="See profile of Olga" border=0 width=120 height=151></a></div></td></tr></table> <div style="padding:10px 10px;"> <div class="addthis_inline_share_toolbox_vfoi"></div> </div> </td> <td style="vertical-align:top;"> <h2>Olga from Kiev, Ukraine</h2> <ul class="srlist"> <li>36 y/o, Sale manager </li> <li style="font-style:italic;">"... If i love, I will give all myself ..."</li> <li>Hi, I'm a lady with hot heart! I'm Olga. Often they say to me that I'm complaisant I will tell you later European woman without children. I am 36 y/o. My native city is Kiev, Ukraine. I have Attractive body, my ethnicity - I will tell you later, my height is 5'6" - 5'7" (166-170cm). I speak English, Russian and work as a Sale manager. I like to read books, learn something new, travel, art, watch TV, to look after the flowers. I seek man for Activity Partner, Friendship, Marriage, Relationship, Romance, Pen Pal. I expect such qualities from man: reliable person, 30-75 y/o.</li> <div class="mfsp"> <a target="blank" href="https://www.aloneangels.com/Sweet_Blonde_Girl.html">View profile of Olga</a> </div> </ul> <div class="SearchRowLinksDiv"> <table class="SearchRowLinksTable"> <tr> <!--<td></td>--> <td><a target=_blank href="vkiss.php?sendto=1000757036" ><img alt="send smile" name=i011000757036 src="/templates/tmpl_aan/images/pa_kiss.gif" border=0></a></td> <td></td> <td></td> <td><img border=0 alt='offline' src='/templates/tmpl_aan/images/offline.gif'></td> </tr> </table> </div> </td> </tr> </table><table class="SearchRowTable"> <tr> <td style="padding-right:10px;vertical-align:top;width:140px;"> <table cellspacing=0 cellpadding=0 width="126" class="thumb_search" align="center"><tr><td align=center><div STYLE="width: 125; overflow : hidden"><a target=_blank href="/profile.click.php?ID=1001554205"><img src="https://photo.cdn.1st-social.com/1001554/1001554205-32-1131766584-s.jpg" alt="See profile of Olga" border=0 width=120 height=175></a></div></td></tr></table> <div style="padding:10px 10px;"> <div class="addthis_inline_share_toolbox_vfoi"></div> </div> </td> <td style="vertical-align:top;"> <h2>Olga from Kiev, Ukraine</h2> <ul class="srlist"> <li>36 y/o, Freelance </li> <li style="font-style:italic;">"... <img src="/images/birthday.png" align=absmiddle hspace=2 alt="Awesomeangel has a birthday" title="Awesomeangel has a birthday">Dating can be fun, and I can prove it! ..."</li> <li>How are you doing? I'm Olga. From the very beginning I want to say that I'm mysterious, can be on god terms with people Single just beautiful girl without children. I am 36 y/o. I was born in Kiev, Ukraine. I have Attractive body, my ethnicity - I will tell you later, my height is 5'6" - 5'7" (166-170cm). I speak English, Ukrainian, Russian and work as a Freelance. I like nature and to be outdoors, going to cafes, movies and theaters. I seek man for Activity Partner, Friendship, Marriage, Relationship, Travel Partner. I expect such qualities from man: sympathetic, not greedy person, 35-75 y/o.</li> <div class="mfsp"> <a target="blank" href="https://www.aloneangels.com/Awesomeangel.html">View profile of Olga</a> </div> </ul> <div class="SearchRowLinksDiv"> <table class="SearchRowLinksTable"> <tr> <!--<td></td>--> <td><a target=_blank href="vkiss.php?sendto=1001554205" ><img alt="send smile" name=i011001554205 src="/templates/tmpl_aan/images/pa_kiss.gif" border=0></a></td> <td></td> <td></td> <td><img border=0 alt='offline' src='/templates/tmpl_aan/images/offline.gif'></td> </tr> </table> </div> </td> </tr> </table><table class="SearchRowTable"> <tr> <td style="padding-right:10px;vertical-align:top;width:140px;"> <table cellspacing=0 cellpadding=0 width="126" class="thumb_search" align="center"><tr><td align=center><div STYLE="width: 125; overflow : hidden"><a target=_blank href="/profile.click.php?ID=1001644425"><img src="https://photo.cdn.1st-social.com/1001644/1001644425-0-5014885710819995443.jpg" alt="See profile of Natalina" border=0 width=118 height=175></a></div></td></tr></table> <div style="padding:10px 10px;"> <div class="addthis_inline_share_toolbox_vfoi"></div> </div> </td> <td style="vertical-align:top;"> <h2>Natalina from Saint-Petersburg, Russia</h2> <ul class="srlist"> <li>42 y/o, Teacher and Visagiste </li> <li style="font-style:italic;">"... <img src="/images/birthday.png" align=absmiddle hspace=2 alt="_BlueEyed_ has a birthday" title="_BlueEyed_ has a birthday">Here to find the one! ..."</li> <li>I WILL BE THE IDEAL WIFE! I am Natalina. I am kind, responsible, seeking for endearment Single single European girl without children. I am 42 y/o. I live in beautiful city Saint-Petersburg, Russia. I have Average body, my ethnicity - Caucasian, my height is I will tell you later. I speak English and work as a Teacher and Visagiste. I like to visit gym, to go in for sport, to prepare dinner, play with children. I seek man for Activity Partner, Friendship, Marriage, Relationship, Romance, Casual, Pen Pal. You should be fun loving and hard working, easy going, 35-75 y/o.</li> <div class="mfsp"> <a target="blank" href="https://www.aloneangels.com/_BlueEyed_.html">View profile of Natalina</a> </div> </ul> <div class="SearchRowLinksDiv"> <table class="SearchRowLinksTable"> <tr> <!--<td></td>--> <td><a target=_blank href="vkiss.php?sendto=1001644425" ><img alt="send smile" name=i011001644425 src="/templates/tmpl_aan/images/pa_kiss.gif" border=0></a></td> <td></td> <td></td> <td><img border=0 alt='offline' src='/templates/tmpl_aan/images/offline.gif'></td> </tr> </table> </div> </td> </tr> </table><table class="SearchRowTable"> <tr> <td style="padding-right:10px;vertical-align:top;width:140px;"> <table cellspacing=0 cellpadding=0 width="126" class="thumb_search" align="center"><tr><td align=center><div STYLE="width: 125; overflow : hidden"><a target=_blank href="/profile.click.php?ID=1001710344"><img src="https://photo.cdn.1st-social.com/1001710/1001710344-21-4121791861828237221-s.jpg" alt="See profile of Irina" border=0 width=120 height=188></a></div></td></tr></table> <div style="padding:10px 10px;"> <div class="addthis_inline_share_toolbox_vfoi"></div> </div> </td> <td style="vertical-align:top;"> <h2>Irina from Kiev, Ukraine</h2> <ul class="srlist"> <li>39 y/o, fitness coach </li> <li style="font-style:italic;">"... Your happiness is THERE ..."</li> <li>You will feel special... I am Irina. One can say about me that I'm communicative and easy going person Single European girl without children. I am 39 y/o. I live in beautiful city Kiev, Ukraine. I have Slim body, my ethnicity - Caucasian, my height is 5'6" - 5'7" (166-170cm). I speak English and work as a fitness coach. I like cooking, keeping house, dancing, walking under stars. I seek man for Activity Partner, Marriage, Relationship, Romance, Casual, Travel Partner. You should be fun loving and hard working, easy going, 18-74 y/o.</li> <div class="mfsp"> <a target="blank" href="https://www.aloneangels.com/YourDestinyIrina.html">View profile of Irina</a> </div> </ul> <div class="SearchRowLinksDiv"> <table class="SearchRowLinksTable"> <tr> <!--<td></td>--> <td><a target=_blank href="vkiss.php?sendto=1001710344" ><img alt="send smile" name=i011001710344 src="/templates/tmpl_aan/images/pa_kiss.gif" border=0></a></td> <td></td> <td></td> <td><img border=0 alt='offline' src='/templates/tmpl_aan/images/offline.gif'></td> </tr> </table> </div> </td> </tr> </table>